Posted March 10, 2022 in Interns
On a sunny day in June 2019, I graduated from Oxford Brookes University. My degree in Animal Biology and Conservation had fuelled my excitement for the subject and left me determined to work in the field of international conservation. Early in 2020, I took the opportunity to embark on a volunteering adventure in Colchester Zoo's privately owned nature reserve, UmPhafa, located in Kwazulu-Natal province, South Africa. After many weeks of working under the hot sun, experiencing new challenges and making lifelong friends, my fellow volunteers and I could not have imagined how profoundly our lives were about to change.
We watched and waited as the world news reported on a new and deadly strain of virus circulating in Wuhan, China. And so began a crescendo of uncertainty and panic. Day by day, we listened to increasingly worrying news reports as the severity of the situation was being realised. My time at UmPhafa came to an abrupt end, as we were left with little choice but to dash to the airport and fly home while we could. The African adventure I'd started with optimism and the promise of personal development and discovery had been put on hold indefinitely. Few of us could have predicted the global hibernation which became a reality over the next 18 months.
"At long last, I could see a dim light at the end of the tunnel. I finally had a vision and project to which I could now centre my focus and have a goal to work toward."
Upon my return to the UK, I was presented with a radically different country to the one I left. Slowly, as the days turned to weeks, which turned to months, the grim reality of lockdown began to dawn on me. Due to local restrictions, I couldn't re-engage with the work that I had trained and studied for. A position I'd secured in Thailand went up in a puff of smoke and had to resign myself to a dramatically different way of life, as we all did. After many months, I was delighted to be contacted by the managers of UmPhafa, who generously offered me the position of assistant intern coordinator once their operations were up and running once more. At long last, I could see a dim light at the end of the tunnel. I finally had a vision and project to which I could now centre my focus and have a goal to work toward.
---
A full eighteen months after my hasty departure from South Africa, I was finally reunited with UmPhafa. It was worth the wait! Upon my arrival at the reserve, I felt as though I had never left, and it took me no time at all to become reacquainted and immerse my senses with the sights, sounds and smells of the African bush. The previous eighteen months of seemingly endless waiting just seemed to melt away as the sheer openness of the environment felt a world away from what I had left behind. To once again have the privilege to live and work within a functioning African ecosystem and landscape of hidden beauties I knew would be an experience I would never forget.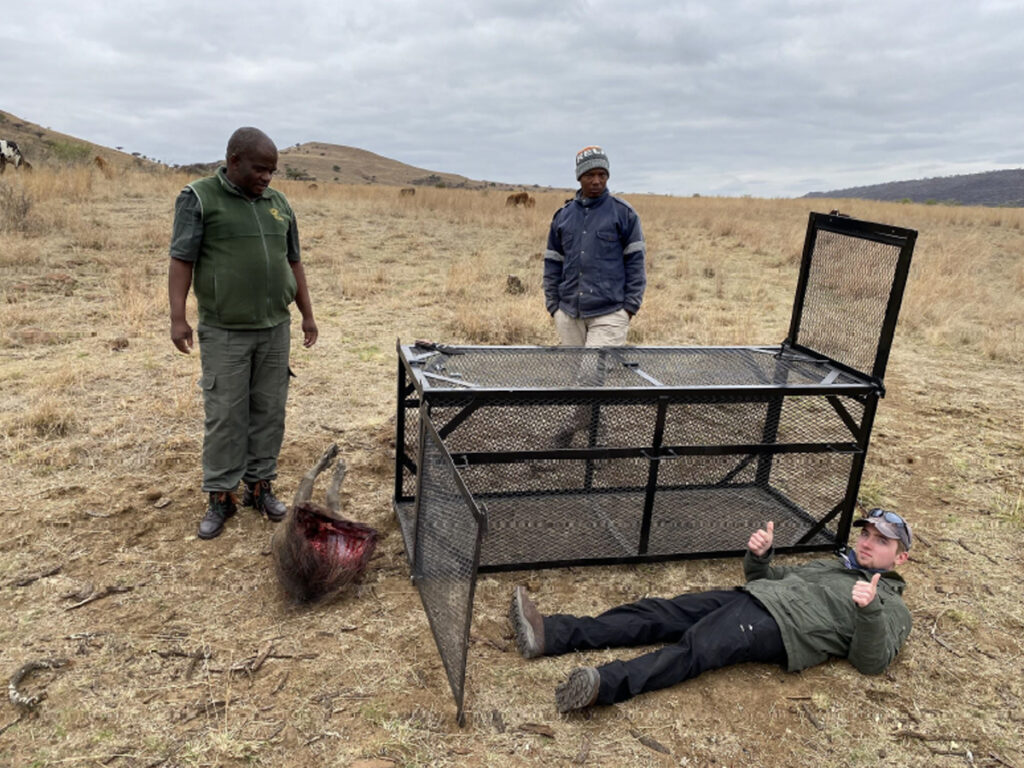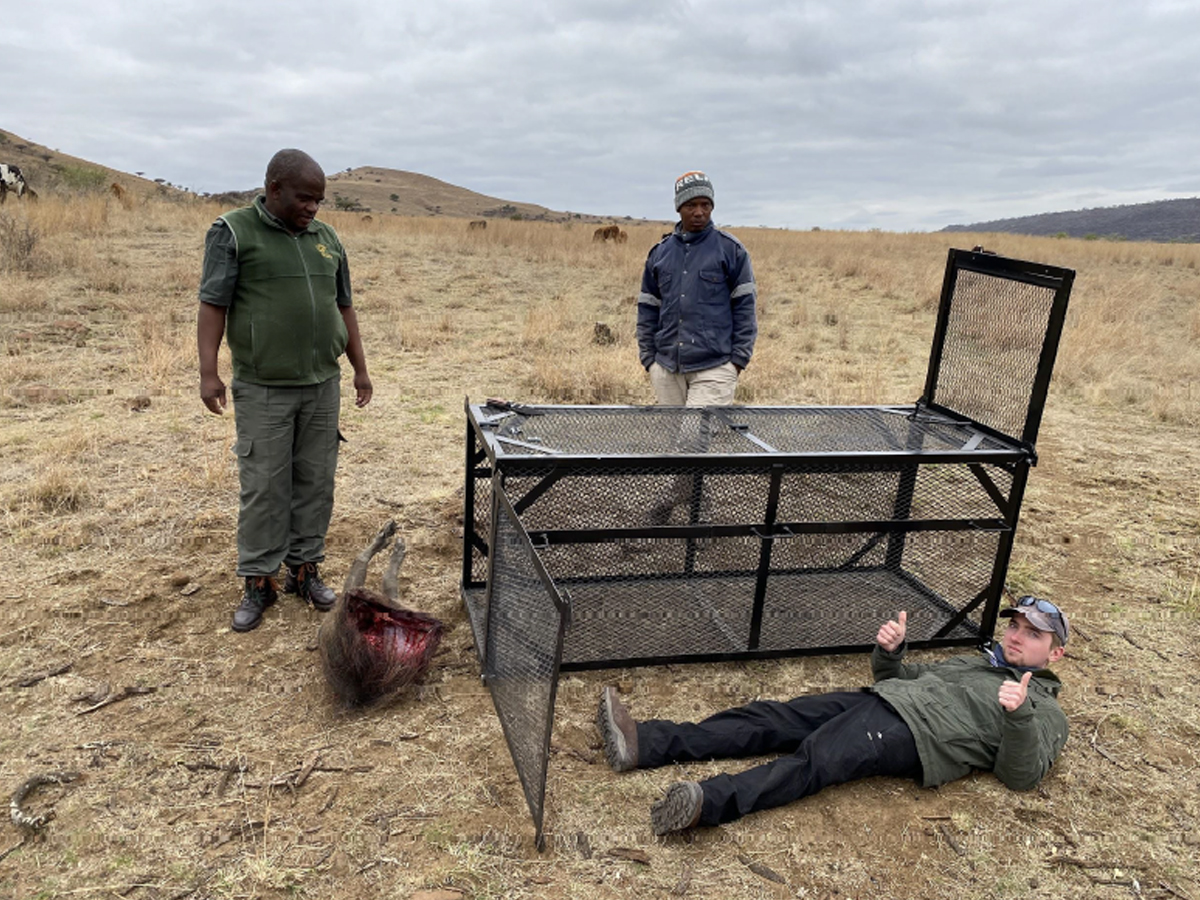 Since my return to UmPhafa, I've enjoyed being thrown back into the action of working in wildlife conservation. I quickly gained first hand experience of one of southern Africa's most prevalent issues within conservation; human wildlife conflict. As part of a collaborative effort with Ezemvelo Kwazulu-Natal Parks Board (the governmental conservation body for the province), I was sent as a representative of UmPhafa in an effort to reconcile and preserve our relationship with the neighbouring community. The issue at hand on this occasion was that a local farmer had been losing goats and suspected the culprit to be a leopard from the UmPhafa reserve, venturing into the community lands.
As a gesture of sympathy and support, we agreed to help make an attempt to capture the leopard. If successfully caught, the said leopard would be safely translocated elsewhere. However, despite several weeks of baiting the leopard was never found.
"One of the principal things I have learned so far during my time here, is the unpredictable nature of the work involved."
Fundamentally, the UmPhafa project is a restoration program, from what was formerly agricultural land, into a thriving ecosystem. Constant biodiversity monitoring is a key component to measuring the success of the project and forms a large part of our duties here.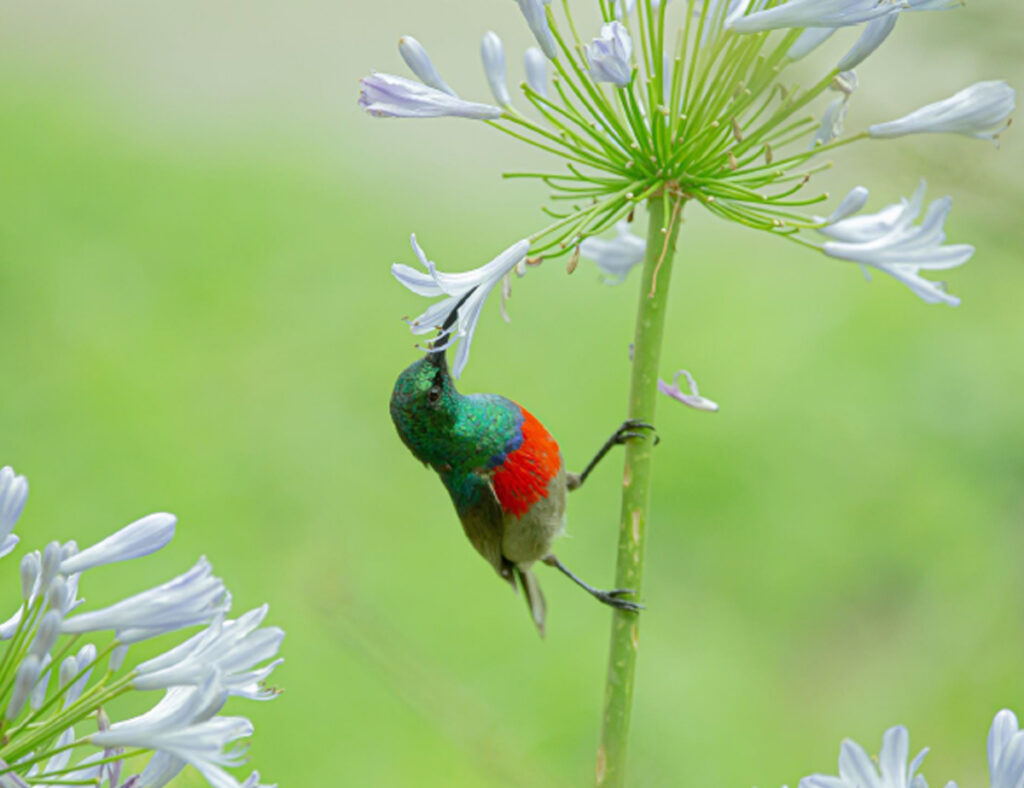 As a passionate ornithologist, I am forever in awe at the incredible level of avian diversity of all shapes and sizes in South Africa. Not only does UmPhafa play host to over two hundred and fifty species of birds, but owing to the success of the project, we are also managing to record species unusual for this habitat and geographical range, which include sightings such as the lappet faced vulture and the European bee-eater. Presently, my own personal species count currently stands at one hundred and sixty.
One of the principal things I have learned so far during my time here, is the unpredictable nature of the work involved. No matter how much planning goes into the week ahead, it will almost inevitably be disrupted by another task which requires immediate attention. An example would be the time we were rushed off early one morning after receiving word that we would be required to temporarily house a pair of African hunting dogs in less than two days' time. It became a race against time to repair the boma enclosure which had been purpose built for the hunting dog rehabilitation program, which had been broken and battered by gale force winds earlier in the season. Against the odds, after many blisters and sweaty brows, with the fence successfully re-erected and the electrics functioning once more, the enclosure was fit for purpose and we were ready and excited to welcome one of Africa's most iconic predators. However, as I previously mentioned, sometimes unpredictability is part of the job, and despite our toil in the baking sun, we were informed that our services would no longer be required to house the dogs. Just another day in the bush!
"I feel that one of the many highlights of living in this environment is being able to observe its native species in their natural habitat."
Personally, I feel that one of the many highlights of living in this environment is being able to observe its native species in their natural habitat. Whilst operating on foot, you have a rare opportunity to immerse yourself into what one might consider a primal or instinctive way of life. To see how these creatures react to your presence gives you at least some imaginative sense of how our ancient ancestors would have lived. To observe closely and notice even the most indistinct tracks, smells and sounds provides you with a truly immersive experience of living in a vibrant and rich ecosystem teeming with life. Indeed, one truly unique aspect of life here, is the rare opportunity to live amongst predators. Namely, one of the continent's most elusive and charismatic species, the leopard.
One of my main duties here, through an intensive camera trapping effort, is to attempt to establish the population dynamics of UmPhafa's resident leopards. After months of trawling through footage, we have successfully been able to examine and identify a number of individuals and have established a basic outline of certain territories. This seldom seen animal will often leave tell-tale signs of their activities; carcasses, paw prints, and scent marks, which give us an indication of where to lay our cameras. Yet they will not betray their presence easily to watchful eyes. Whilst on duty in the bush, whether it be from an innate primitive ancestral gene, it is all too easy to feel that you are sometimes being watched.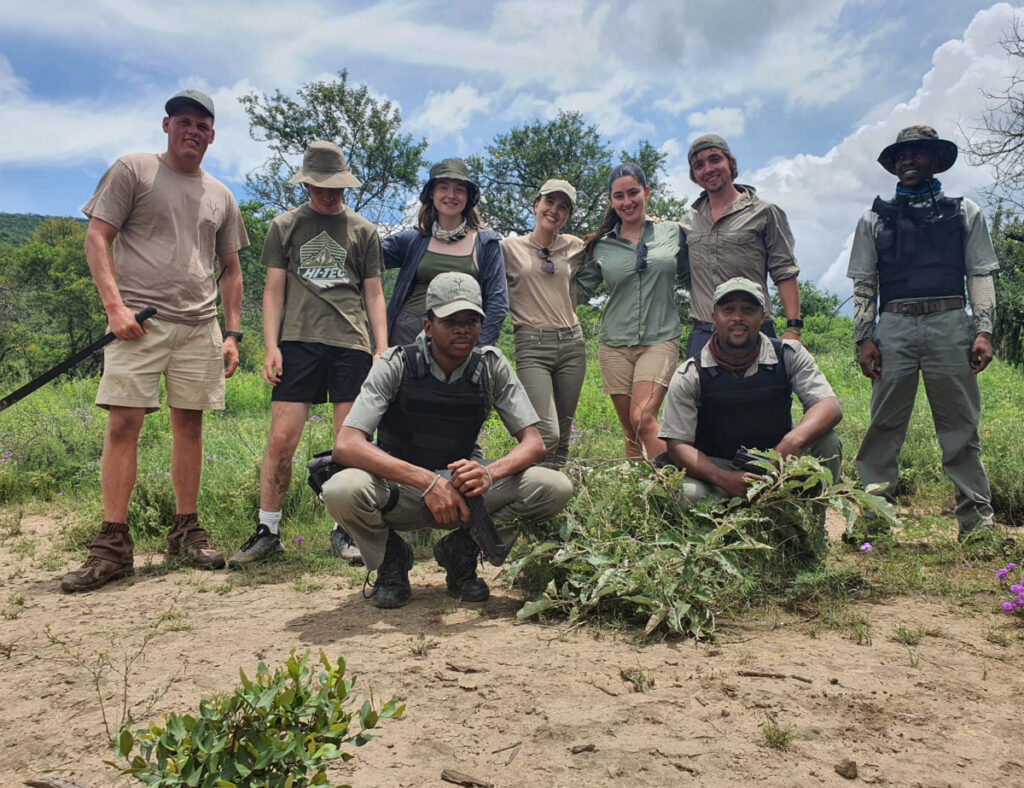 Whilst reflecting upon the human perspective of working in conservation, it has been a great privilege to work alongside UmPhafa's rangers as they conduct their daily patrols to ensure the security and safety of the reserve. I gained a profound respect for these wildlife stewards as we trekked for mile after mile in the sweltering conditions of the African bush. Despite the harsh landscape and potential dangers they face every day, they dutifully carry out their mission to ensure the wellbeing of UmPhafa's wildlife. Their tracking skills are something to behold; the ability to spot even the most subtle change in the terrain is exceptionally impressive.
Whether it be a single misshapen blade of grass, or a scrape of unearthed soil, the rangers can instinctively make a decision on their next course of action or where to proceed. I would describe it as being able to visualise a different spectrum of colour, which in your own mind you could not even imagine. Yet, to the rangers, it comes as naturally as walking. They have also generously shared with me their Zulu cultural knowledge of South African wildlife and what certain things mean to them. I particularly enjoyed learning about the red chested cuckoo, whose call heralds the coming of the rainy season. In Zulu, it translates as 'uPhezukomkhono', meaning, it is time to work with your arms, as the rains are upon us!
---
Despite the significant challenges faced with Covid, my time thus far here on UmPhafa has been a tremendously interactive learning experience. I am fortunate to have been offered a wonderful and unique opportunity to work in this beautiful environment; a place in which no two days are ever the same and offer something unique. At the end of a hard day's work we often sit around a fire, happily reminiscing about the day's events and sightings and watching animals peacefully wander by under the setting African sun. It is in these moments, that I can think of few places I'd rather be. All that remains now is to welcome our interns back in 2022, so that perhaps they can also experience for themselves the rewarding work and challenges that come with working on UmPhafa.